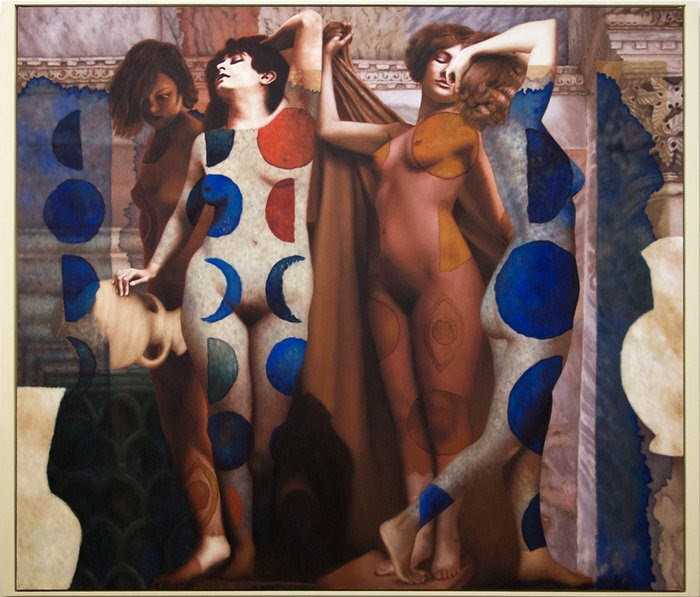 THE MYTH OF INANNA
September 6 – October 13
Reception Thursday, September 6 6-8pm
Kravets Wehby Gallery
521 w21st Street
New York, NY
Kravets Wehby Gallery is pleased to announce The Myth of Inanna, a solo exhibition of new work by Los Angeles based artist Alison Blickle, opening Thursday September 6 – October 13, 2018. A reception for the artist will be held on Thursday, September 6 from 6-8pm.
In this new collection of paintings and ceramics, Blickle continues to expand her world of women engaged in unnamed ceremonies. The work is presented as an installation, like a tableau vivant, calling to mind a goddess temple or sacred space, where rites and initiations will unfold. A practicing witch and a lover of mythology, the artist's influences range from painters Leonor Fini and Henry Blake, to 18th century alchemical drawings and ancient Egyptian reliefs.
Blickle created this work as an homage to the myth of Inanna, the oldest recorded human story. In this Sumerian tale, Inanna descends to the dark of the underworld, loses herself in every sense, and is ultimately reborn wiser and stronger. Incorporating imagery from the esoteric traditions, the luminous paintings function as theatrical scenes, with posed women embodying the story as it resonates with Blickle's own life.
Both the artist's work and the myth of Inanna explore the idea that women are, contrary to modern views of womanhood, at home in the dark. Jungian analyst Betty de Shong Meador writes that "Women's natural pathways of growth throughout their lives require going down into the dark." – a metaphorical descent into the underworld. There she faces the agonizing, messy, mysterious process of personal metamorphosis; eventually reemerging more resilient and capable, initiated into the next phase of life. If there is truth to this notion, what are the implications of being a woman in a culture that upholds light and reason and fears darkness? When this natural process of growth is not honored, women are separated from an innate source of strength. Blickle dedicates her artistic practice to reuniting women with their power in the dark.
Blickle's work will be included in the upcoming group exhibition "Blessed Be: Mysticism, Spirituality, and the Occult in Contemporary Art" opening in September at MOCA Tucson. Her work has been exhibited at the Nassau County Museum of Art, Torrance Art Museum, Deitch Projects, and The Hole.
This will be Alison's fourth solo exhibition at the gallery. She lives and works in Los Angeles.
For more information please call the gallery at (212) 352-2238 or email info@kravetswehbygallery.com.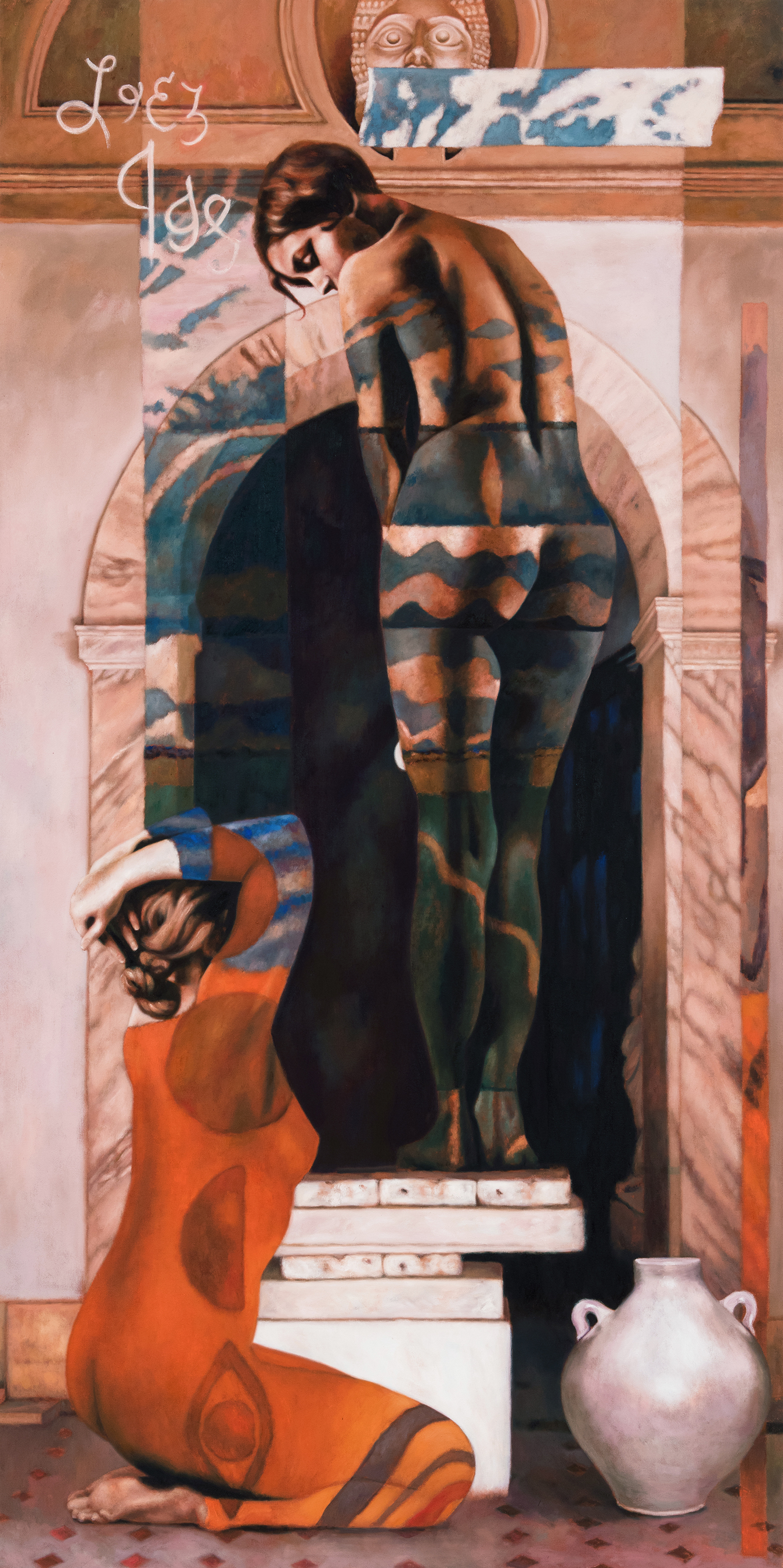 Pedestal, 96 x 48″, oil on canvas & ceramics, 2017